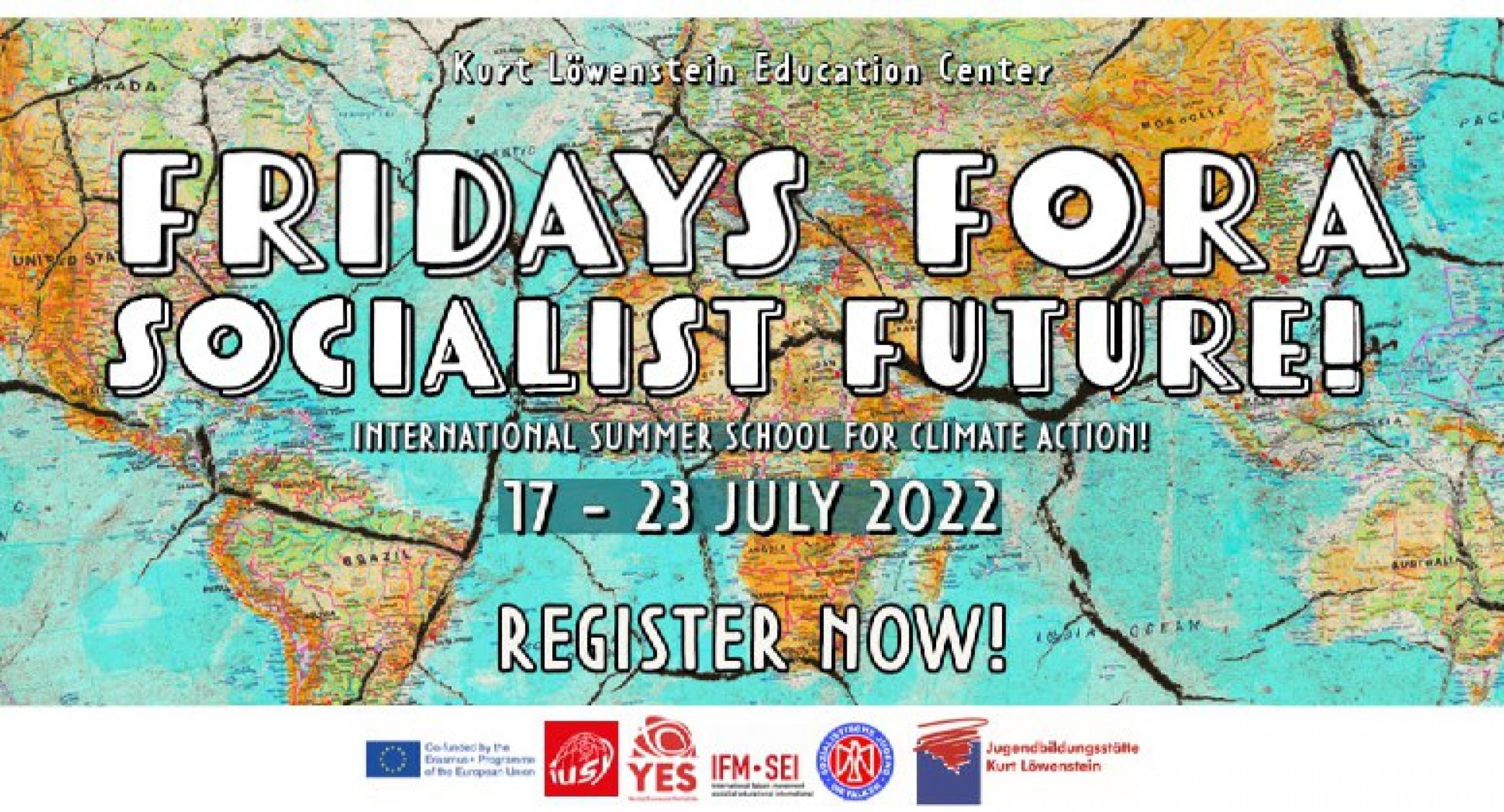 "Linking climate and social justice: Fridays for a Socialist Future!"
Activists from socialist organisations are invited to Werftpfuhl from 17 to 24 July.
This year's Summer School will be all about the struggle against the immanent menace of climate change and the social upheavals we are experiencing in the capitalist world.
Global warming already affects our every day's lives and its effects will worsen in the upcoming years, especially for the Global South. New resources are opened up every year which funnels more wealth to the rich and impels climate warming even more.
We will introduce ourselves in the facts behind climate science and continue by working on a vision for the socialist and ecological transformation we long for. Bringing together social, climate and global justice will be the key challenge our participants will work on in several themed tracks they can choose beforehand. This vision-making process will be accompanied by speaking about the realities in our communities, international exchange and many fun activities to make new friends from all over the world.
The seminar will be conducted in English, thus it will be rather hard to understand the instructions and fully participate if your English is limited. However, you may help each other out in delegations.
When?
17 - 24 July 2022
Participation Fee?
50-100€, depending on your country of residence
Travel cost reimbursement?
Possible - for more details contact Jonas Gerber.
Registration?
Register online here.
Registration deadline?
03 July 2022 (Participants needing Visa invitations, please apply as early as possible!)
Hygiene?
Currently our house operates under some restrictions due to health prevention. We follow special rules of hygiene, such as covering mouse and nose in the corridors and dining hall, washing and desinfecting hands on a regular basis and seperation of different groups in the house.
To enter the center you will have to show proof of full vaccination against Covid-19 (three in Germany recognised shots), a certificate of recovery from Covid-19 (not older than six months) or proof of two vaccinations and a negative test result on Covid-19.
So far we have succesfully organized several seminars under these conditions. We are confident, that the seminar will be possible.
If the seminar has to be cancelled because of the pandemic, you won't have to pay any fees!
Travel restrictions?
For up-to-date information on travel restrictions for entering Germany, please read the website of the Federal Foreign Office carefully: https://www.auswaertiges-amt.de/en/coronavirus/2317268
Questions?
Feel free to contact us with any question.
Contact details:
Jonas Gerber
Email: j.gerber@kurt-loewenstein.de
Phone: +49(0)33398-8999-15
The Summer school is co-funded by the Erasmus+ Programme of the European Union.
"Summer School 2022" is organized by Youth Education Center Kurt Löwenstein in cooperation with international partner organisations of SJD – Die Falken (Socialist Youth of Germany): YES (Young European Socialists), IUSY (International Union of Socialist Youth) and IFM-SEI (International Falcon Movement – Socialist Educational International).