Apply Now! Voluntary Service at Kurt Löwenstein Education Centre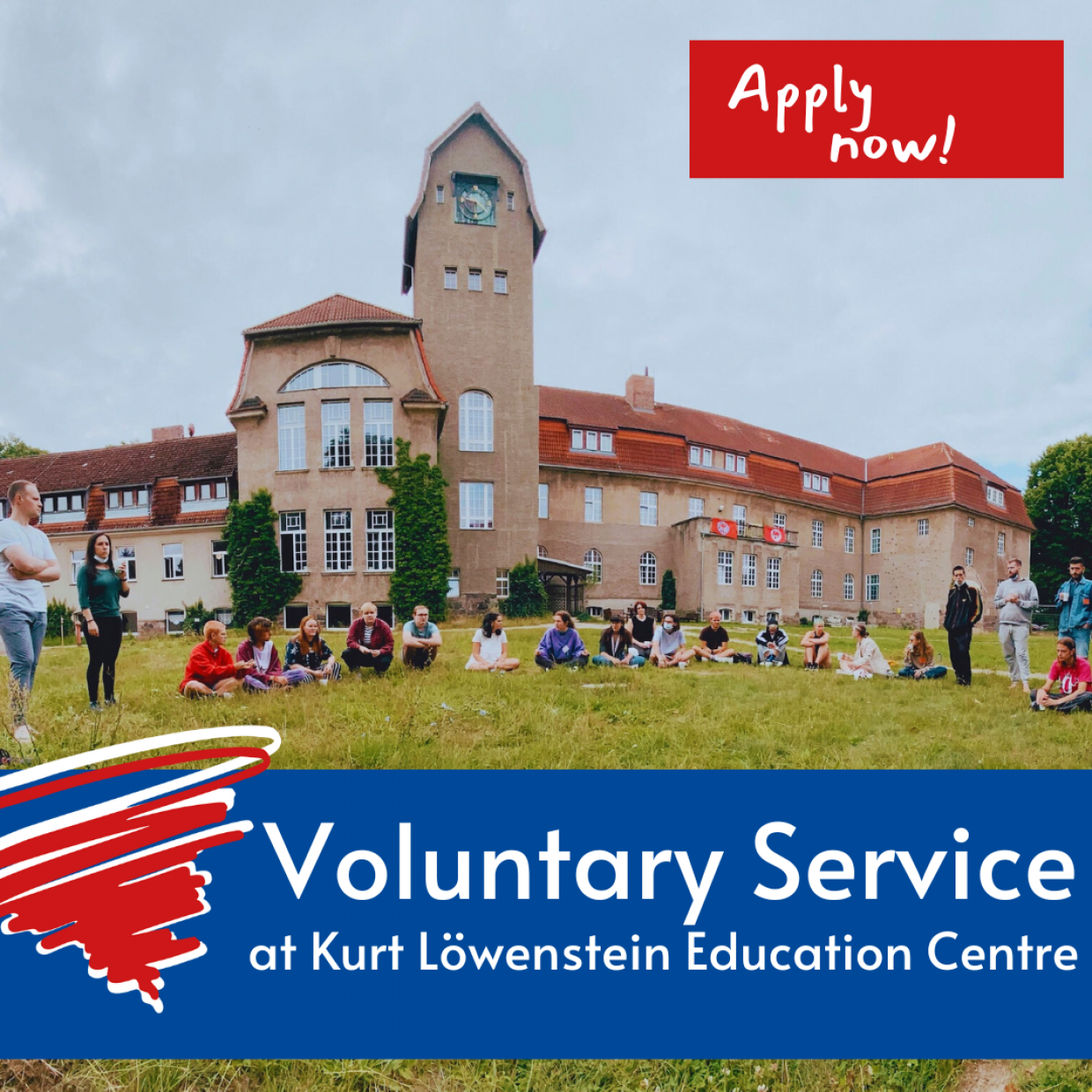 12.07.2023 |
The Kurt Löwenstein Education Centre is looking for a one-year volunteer in the framework of the European Solidarity Corps from latest 01.11.2023 (better 01.10.2023) supporting the international projects.
The Kurt Löwenstein Education Centre
The Kurt Löwenstein Education Centre is a registered association and recognized as a youth welfare organisation. We are organizing seminars of political and cultural education for children and young people (between 8 and 27 years) from the region. We also offer multiplier trainings for those involved in youth (association) work for participants from all over Germany. Another main field of work of our educational institution are international encounters and educational seminars with partner organizations from mainly but not limited to Europe and the Middle East.
The main objective is to promote the strengthening of democratic acting and ideas as well as the empowerment of young people to actively participate in social processes and civil society activities. In doing so, it is particularly important to us to raise awareness of social exclusion mechanisms and to be able to act against structures that create racism, classism, sexism, etc. and to advocate a society in which diverse life plans and ways are self-evident.
As a federal education centre of the Socialist Youth of Germany - Die Falken, we are active in international networks such as the International Falcon Movement - Socialist Educational International and the International Union of Socialist Youth or the Young European Socialists. Our partners are organizations with different educational focuses that unite political and cultural education.
The aim of our voluntary service activities is to enable the participants to shape political education processes in international education and encounter projects. Under the guidance of the responsible education officer, the volunteers are enabled to design, implement, and evaluate such educational events themselves. One focus is the diverse methodical design of political and intercultural learning processes. The volunteers can then contribute the acquired knowledge and skills at our educational institution (in the honorary team etc.), but also in other organizations involved in international youth work, and ideally organize international political education processes independently. We are also a place for assignments for other voluntary services (German Voluntary Years in the social and/or Environmental Sector and "Federal Voluntary Services").
Main tasks
The volunteer will assist the staff members in the preparation, implementation, and evaluation of the international seminars. Each year, we organize usually four international multilateral projects, which last for 8 days each, in cooperation with our international partners. Additionally, many bilateral international seminars for mainly pupils take place. The seminars deal with political issues, such as gender and sexual identity, anti-racism and anti-discrimination, peace education and other topics. Possible tasks of the volunteer range from PR-work, taking over small working groups or inputs during seminars, cooperate und communicate with partners (mainly left winged youth organizations and other actors in the civil society) and support in the financial administration of international projects (application and reporting to the funding bodies). The volunteer can also choose to get involved with other seminars and projects with German pupils dealing with various topics of human rights and active citizenship.
Conditions
The working hours will amount to 35h per week on average (with more during seminars and less during non-seminar weeks), usually on five days a week (except the seminars are longer). The distribution of working time is up to the volunteer in consultation with the responsible staff member of the Centre on the needs of the work to be done. 25 days of holidays will be given per year. The accomodation will take place in a private room/flat and can be in Berlin or closer to the Education Centre for example in Werneuchen. It is up to the volunteer to decide this in the framework of the agreed budget.
The volunteer will be supported with a public transport ticket for Germany ("Deutschlandticket"). During the working days, meals will be provided by the Education Centre. For weekends and during holidays, the volunteer will receive an allowance for food. They will receive a pocket money and can be supported with a German language course. ESC-programme seminars apply.
Profile
Good knowledge (by word and written) of English is required
Basic knowledge of German is helpful
Age between 18 and 30 years old
First experiences in the field of political education
Applications
Please send us your application (CV and a short letter of motivation max. 200 words) via e-mail to j.gerber@kurt-loewenstein.de
Application deadline is 10th of August 2023.
Please note: To realize your voluntary service in the Kurt Löwenstein Education Centre you'll need an accredited organisation that is listed as "sending organisation" in this database.
For further questions contact:
Education Officer
E-mail: j.gerber@kurt-loewenstein.de
Tel.: +49 33398 89 99 15